October 10, 2023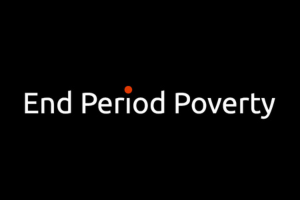 The Huron-Perth Period Poverty Task Force invites everyone to End Period Poverty. Washrooms in every library in Huron and Perth Counties have the supplies you need to get through your day. Find the full press release here
---
June 7, 2023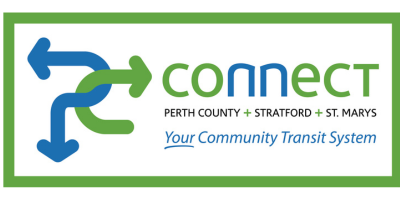 PERTH COUNTY, ON – The County of Perth and the Perth County Information Network (PCIN) are excited to announce the launch of the NEW PC Connect Library Bus Pass Collection – a FREE PC Connect fare pass available for residents to borrow from their local library! Effective Monday, June 12, 2023, the PC Connect Library Bus Passes will be available at all PCIN Libraries, which includes Listowel, Atwood, Monkton, Milverton, Mitchell, Stratford and St. Marys branches. Residents will be able to use their borrowed bus pass to get anywhere along all 5 PC Connect routes, as many times needed during the 4-day loan period.
"We are very pleased to be partnering with the PCIN to further the accessibility of public transportation across our region." said Maggie Kerr, Transit Project Coordinator. "Our partnership with the PCIN will further alleviate transportation barriers for residents, while also promoting the use of our PC Connect Transit Service. Residents are encouraged to borrow a PC Connect Library Bus Pass whenever they need to access basic needs such as employment, appointments, and visiting friends and family; or are simply looking to enjoy a new adventure without having to worry about the cost of transportation."
Launched in November of 2020, PC Connect is funded by the Government of Ontario's Community Transportation Grant Program. Since launch, the service has welcomed over 20,000 riders aboard its fleet of 5 buses. PC Connect operates 5 routes Monday to Saturday, serving Perth County, Stratford, St. Marys, Kitchener/Waterloo and London.
For route maps, schedules and more information about PC Connect, please visit: perthcounty.ca/pcconnect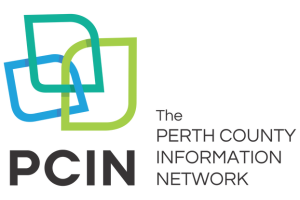 Media Contacts:
Maggie Kerr
Transit Project Coordinator
Perth County
mkerr@perthcounty.ca
519-301-3582
Hayley Dietz
Coordinator of Digital Initiatives
North Perth Public Library
hdietz@northperth.ca
519-291-4621
---
June 11, 2022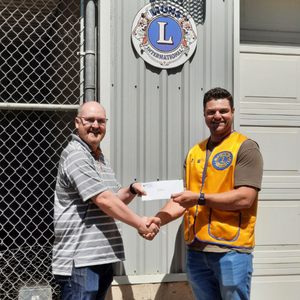 At our monthly Read to the Animals program at the Lions Park, the Mitchell Lions Club donated $1600 to the Library to be used for library operational programming expenses.
Board Chair Jesse Britton accepted the donation on behalf of the West Perth Public Library. Plans are to use the donation for larger community events that charge a fee, such as author visits and animal education groups.
---
April 4, 2022
As of April 4, 2022, over 99% of Perth County Information Network collections (North Perth, Perth East, St. Marys, Stratford and West Perth) are fine free! In addition, existing late fines on borrower cards have been forgiven.
Borrowers are still encouraged to return their materials on time. Materials will continue to have their regular loan period and will be automatically renewed up to three times, if the item is not on hold. Libraries will continue to send reminders to customers when items are past due. Long overdue items will be billed and starting May 2022, a material recovery service will assist in the retrieval of lost materials. Full details here.
---
March 22, 2022
---
December 30, 2021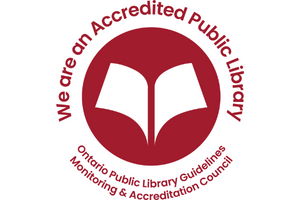 In 2021, West Perth Public Library achieved Re-Accreditation.
From "Ontario Public Library Guidelines Monitoring and Accreditation Council" website:
The Ontario Public Library Guidelines are developed by the Ontario public library community to help improve the quality of public library service across the province. The Guidelines are important not only for libraries pursuing accreditation but as a process for boards, CEOs, and library staff to assess their governance, management, and services against best practices. Libraries can work with the guidelines to develop a comprehensive process and plan for improvement.
Key Benefits of Accreditation:
Evaluation of local library service and direction for development
Improved accountability
Assistance in the planning process
Consistency of public library service across Ontario
Enhancement of the library's position in the community and with funding bodies
There are 41 accredited library systems in Ontario.
---
December 1, 2021
With Auto-Renewals, items on your account will automatically renew 3 days before they are due. Most physical items borrowed (books, DVDs, audiobooks) are eligible for 3 auto-renewals
Opting In / Out
All library members will be signed up for Auto-Renewal but you may opt out at any time by contacting the library at 519-348-9234 or askwppl@pcin.on.ca.
Notifications
Customers who are signed up for email notifications will receive a notice 3 days before their items are due indicating which items have been renewed and which have not. The loan period for items that renewed are extended from the original due date.
You can also check the status of your items at anytime by checking your account on the online catalogue.
Items that do not Auto-Renew
The following items are not eligible for Auto-Renewal
items that have reached renewal limit
items with holds
ILLO items (items borrowed from outside of PCIN)
X-press items (2 day DVDs)
Downloadable materials (eBooks, eAudio, eMagazines)
Book Club kits
---
November 1, 2021
Starting Monday, November 1, hours at the West Perth Public Library are increasing. Hours of operation going forward will be:
Monday - Thursday 10am - 8 pm
Friday/Saturday 10am - 5 pm
Please see the Locations and Hours page for holidays when the Library will be closed. These will also be posted on our social media at the appropriate times.
Proof of vaccination is not required to enter the library. Please continue to follow our safety measures including wearing a mask and physical distancing in the library.
---
June 30, 2021
Important: The wearing of face masks is part of the province's guidelines. Hand sanitizer must be used upon entry and physical distancing must be maintained.
The library is open for in-person visits. Patrons may enter the library to pick up holds and browse.
Public computer use is permitted. It is not necessary to call ahead to book a computer appointment: however, there is limited public computer capacity. If you wish to ensure a spot, you may call to book an appointment time. Appointment times will be held for 5 minutes.
All fines continue to be waived until libraries can fully reopen.
Library staff is happy to have patrons back in the library! Let us know how we can help.
Library Hours have not changed
Monday - Thursday 2 pm - 8 pm
Friday/Saturday 10 am - 2 pm
---
June 30, 2021
Most of the province is entering Step 2 of the Roadmap to Reopen plan on June 30.
Important: The wearing of face masks is part of the province's guidelines. Hand sanitizer must be used upon entry and physical distancing must be maintained.
The library is open for in-person visits. Patrons may enter to pick up holds: patrons may also browse, but quick visits are encouraged. Patrons who are browsing will pick up a basket upon entry so that we can account for the number of people inside at any time
Public computer use is permitted by appointment. Please call 519-348-9234 to book an appointment. Computer users will be required to fill out a COVID-19 screening form and are limited to 1 session of up to 45 minutes per person per day. Inside WiFI spots are available for the same 1 session of up to 45 minutes per person per day.
If you are uncomfortable entering the library, please call us from the parking lot and we will bring your items out.
All fines are waived until libraries can fully reopen.
---