Due to the COVID-19 pandemic, we are sad to announce that we will be cancelling ALL in person programming until March Break.
We are switching our focus, and are excited to be able to offer program items for pick up and VIRTUAL programs in the New Year!
Stay tuned as we plan for the coming weeks!
---
5 Minute Crafts
3D Paper Snowflake
For crafters of all ages!
---
Virtual Edition of Fables & Fun
This is a story time event for children up to 5 years of age. You can watch from the safety and comfort of your own home at anytime!
**Explore Pam's list for more books on insects**
Click on the link below for more fun activities and resources
https://eric-carle.com/resources/downloads-and-activities/
---
Virtual Junior Explorers
Junior Explorers is a group for children ages 4-8 who love to explore everything about books. The group meets live for 45 minutes to an hour with a portion of the meeting devoted to 'Show-and-Share', where children share the books they have discovered. Then book-related topics are shared through creativity and play while Jennifer reads!
For January 2022, the group is going VIRTUAL! Before the group meets, check out the craft and recipe video on YouTube
To join the virtual group, register at askwppl@pcin.on.ca. The group will meet on Wednesday, January 19th at 6:30 pm. Together, everyone will chat about their favourite illustrations and make some play dough illustrations of their own!
If you aren't able to join us, or you want to learn more, you can still join in the fun!
During Junior Explorers in January, we will be looking at books with plasticine illustrations and making our own. If you can't join us live, you can look through a book by Barbara Reid, who illustrates with Plasticine. You can find her books in our catalogue, or you can watch her videos of her reading her own works like this:


Barbara also leads you through the process of making your own plasticine illustrations, in these videos, as well:
Making Plasticine Pictures: Part 1
Making Plasticine Pictures: Part 2
Making Plasticine Pictures: Part 3
---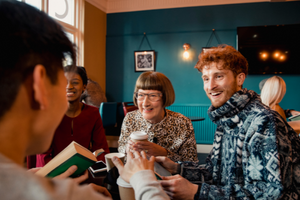 Bring-a-Book Club
Bring-a-Book Club is a casual book club for adult readers.
Read a book each month on a specific theme, come together monthly to discuss, and learn about great reads!
January 2022 theme: It's a Classic
In January 2022, we will be meeting VIRTUALLY on Zoom on January 26th at 6:30 pm!
Pre-register for the Zoom Meeting code at askwppl@pcin.on.ca. 
---
1000 Books Before Kindergarten
1000 Books Before Kindergarten is a fun, exciting and easy way to start your child on the path to success! Read a book - any book- to your child. The goal is to read 1,000 books before your child starts kindergarten. It's easier than you think. Read 1 book a night and you'll meet your goal in 3 years. Read 3 books a night, you could reach your goal in just one year.
How 1000 Books works
Get set for reading. Pick up a tracking poster and any program materials at the Library or print them from our website.
Track your reading. Colour in, or cross out a stack of books on the tracking poster for each book you read to your child.
Every book counts. Even if your child wants to hear the same book again and again, you can count it each time. The books your child hears in storytime, daycare, preschool or with family or friends all count as long as your child listens to the entire book.
Keep on reading. Don't stop at 1000! Keep reading together, there's more learning ahead.
Share your journey. We invite you to share your 1000 Books Before Kindergarten journey on social media. Tag us @westperthpl and use the hashtag #1000BooksB4K.
Program Materials
---